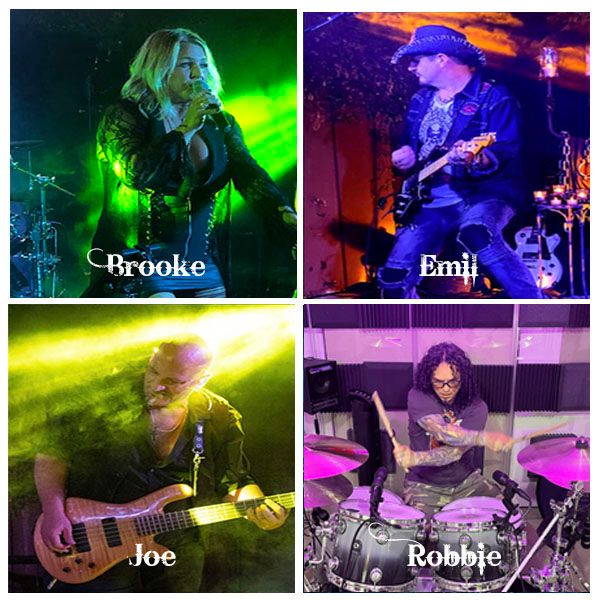 Bringing the Rock Show Experience to stages big and small, with powerhouse vocals, ripping guitars and a thunderous rhythm section.
The party Band that can Rock N Roll all Night
Neverland is a eclectic Rock Band with excellent musicianship, amazing vocals, and tons of professional experience. With amazing originals and a rich repertoire of rock, rocking country and r&b covers, Neverland brings the "Rock Show" to every performance.
With many years of experience on stages large and small in several countries as well as thousands of hours in recording studios, Brooke, Emil, Joe and Robbie bring a sophistication to their performances and songs that is a joy to watch and listen to.
BROOKE  started singing on the Theater Stage where her powerful and unique vocals captured music producers from LA and led to her recording music professionally at 16 years old. She had the privilege to attend the American Music Awards. Brooke has written over 100 songs, producing 2 full albums in 2006 and 2008 and was invited to perform at the (NBA Kings) Arco Arena in Sacramento in 2008. Her voice is hauntingly soulful, delivering songs with power and control. She has led with various bands such as Hot Tub Time Machine, Rockafellas, Rock the Heat while playing on large corporate stages such as Levi's Stadium for the NFL 49er pre-games and Red Zone Rally as well at other City Music Series. Brooke has sung many prestigious venues in the Bay Area including the Moscone and Masonic Centers. With over 25 years of experience in singing and performing, Brooke continues to write and record with Neverland as she brings her powerful vocals to a whole new level.
---
EMIL has performed on stages all over the US, Canada and parts of Europe. With the Bay Area band Dark Humor, he has toured throughout the US, played a large music festival in Toronto , and did a multi-concert tour in Croatia along with a performance on Croatia's most popular TV variety show. With his band Sunfur in the late 90's, Emil released two studio albums, toured all over the West Coast, played the Burning Man Festival, and shared the stage with many notable bay area bands including Train, Cake, and Papa Roach. Emil has also played in multiple cover bands (Rock the Heat, Stompbox, Maroon Vibes - a Maroon 5 tribute band) and performed at all the major festivals in the Bay Area. During his time with a notable Croatian band, Emil has played festivals all over the US and Canada, and has opened up for or backed up some of the biggest rock and pop stars from Croatia. He has also many years recording experience for his own original bands and regularly records guitars for other recording artists.
---
JOE has performed on many US and Canadian stages over his 40+ years in music. Working with original recording artists such as Castles In Spain (SF), Sativa, Hot Rod taxi, Penny Dreadful and 10 year stints with Cover bands Spank & Daze On The Green. He has had the pleasure to play support and share stages with the likes of Sammy Hagar, Jefferson Starship, Y&T, Vanilla Ice, Danny Hull (Doobie Brothers), Jonathan Cain (Journey), Montrose, Craig Chaquico (Starship) and Annabella Lwin (Bow Wow Wow). Joe also had the distinct pleasure to be a member of the "Top Shelf" band which was the only live rock ensemble to play on a regular basis during San Jose Sharks NHL home games high in the rafters at the Shark Tank. 
---
ROBBIE began playing drums at the age of 11 drawing inspiration by watching and listening to rock drummers such as John Bonham, Alex Van Halen, Stewart Copeland, Tommy Lee and Neil Peart and quickly realizing his passion and in what direction to pursue his passion. Over the years Robbie has been part of a few original groups out of Sacramento and Central Valley, notably, Post Garbo, Poet Smith, Satellite Chronicles, Left For Dead and Nine Hours North. Robbie has played from 10,000 seat festivals to an empty bar. 
Also, participating in Cover bands and touring Tribute bands, Bleach(Nirvana Tribute), Corduroy(Pearl Jam Tribute) and a slew of others. Experienced on stage and in the studio.
Robbie draws influence from Steve Gadd, Keith Carlock, Bernard Purdie, Dennis Chambers in constant pursuit of challenges to make himself a better drummer. 
Robbie's motto, 'Do it with passion or don't do it at all'